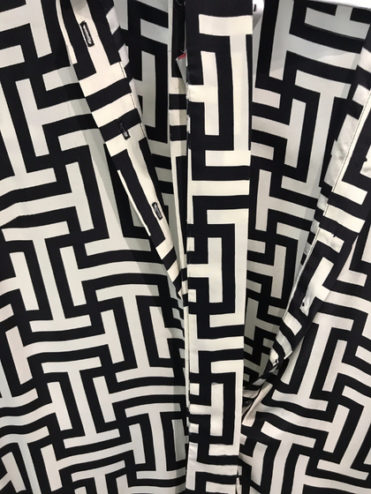 Every two weeks a "Beautiful but Difficult" garment will be profiled in our blog, the first of this series starts here.
This lovely silk top, illustrated above, came to Jeeves in need of cleaning and our staff noticed immediately that the black dye in the print was starting to bleed slightly into the white areas. Our client had only worn the blouse a few times and the black dye was already a problem.
The garment care label indicated to dry clean the blouse using traditional methods. Our head cleaning craftsman, Mike White, who has over 25 years of experience, hand tests every garment that he feels may be an issue.
Mike's test of this black and white printed silk blouse revealed that dry cleaning may cause additional bleeding of the black dye into the white areas. Our client was notified, and asked if she would like us to return the blouse to her without cleaning or if she would like to clean, "at her risk". As of now, she was considering her options.
Related posts:

(https://www

NULL

.addtoany

NULL

.com/share)