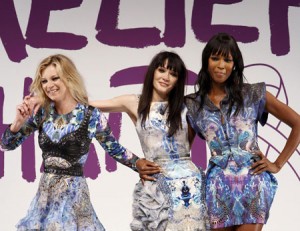 Your man Jeeves was very pleased to receive word from Jeeves London that the Fashion for Relief show in London held at The Somerset House was met with similar success to the one Jeeves attended at Bryant Park.
Just like in New York, Naomi Campbell gathered her friends and acquiantances all among the fashion elite to strut their stuff for the White Ribbon Alliance. Among the favorites to take to the runway were Gerri Hallowell, Pixie Geldof, James Corden, and Andrew Flintoff.
From the pictures your man Jeeves received from the event it seems that spirits were high backstage before, during , and after the show. Naomi Campbell had inscribed a note on the wall visible to all as they entered the runway that read " Be you, be fabulous, be fun! Jeeves greatly admires Ms. Campbell for her positive and encouraging philanthropic projects.
The evening was not all smiles and cheer as the show closed with another tribute to the beloved designer Alexander McQueen. While the rest of the participants wore customized t-shirts for the finale Naomi Campbell, Kate Moss, and Annabelle Nielson took to the catwalk in designs by McQueen.
Your man Jeeves learned that there was an auction immediately following the show where Topshop boss Sir Philip Green put in the final bid of 100,000 pound for the Alexander McQueen design worn by Kate Moss. The Fashion for Relief show in London raised over £1million for the White Ribbon Alliance.
Jeeves is looking forward to more exciting news as London Fashion week continues.
Related posts:

(https://www

NULL

.addtoany

NULL

.com/share)