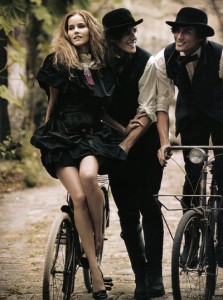 Have you felt the wind of the latest trend on the streets ( quite literally) of New York? It would seem that no longer is a woman's greatest accessory her bag or a one of a kind couture piece, rather a vintage hunk of metal; the bicycle.
Fashion meets function?
Jeeves has heard that this can happen, but so rarely are these functional pieces also statement pieces. Don't tell that to the women of New York who have been cruising all over town from the Upper East Side all the way down to Williamsburg on Schwinns and Raleighs.
The streets of New York have always been like a runway show, but now more so than ever it is impossible to take your eyes off of these woman dressed to the nines whizzing around town…
Messengers and food delivery guys don't stand a chance.
Jeeves had been wondering how long it would take for this trend to settle in before he saw the first wardrobe malfunction due to mechanical error.
Your man Jeeves knows that the ladies of New York most certainly always look their best, and in order to do so wear their very best. The only downfall to this trend is the anticipated wear and tear on your wardrobe– one missed pedal and torn trousers present themselves. Or perhaps you are riding carefree after one of these pesky fall rain showers and a truck drives by catching you in the backlash of an idle puddle?
The next stop on your route should be straight to 39 E. 65th Street where your man Jeeves will be ready and waiting to tend to you and your wardrobe.
Best of all there is a nice little fence outside ideal for securing your wheels.
For all of your dry cleaning, tailoring, and everyday needs Jeeves of Belgravia can do it all.
Related posts:

(https://www

NULL

.addtoany

NULL

.com/share)