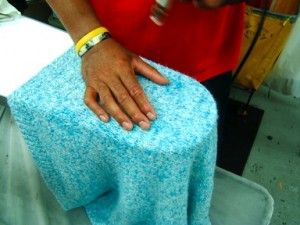 I started this conversation in How To Find A Good Dry Cleaner, but I thought that there was a lot more ground to cover, so here we are.
How can you judge the quality of the dry cleaning once you pick up your clothes? The first tell-tale sign would be if your clothes were not ready on time. If your order is running late, did the dry cleaner give you a call to let you know what was going on?
At my shops, we give our clients a ring when we "need more time" to properly clean their garment. From time-to-time a garment may have stubborn stains that require additional time to remove. At my shops we don't stop at one cleaning, if your garment requires intensive stain removal we do it. But we always find out if we can take the time to give you back your garments as "perfect as possible."
It is not in your best interest to ask for "rush" or "same day service" when you have a badly stained garment. You may not be giving your dry cleaner enough time to make sure the stains are removed.  Ask your dry cleaner how much time is needed and give them the time to do the job correctly.
The dry cleaning process itself does a great job of removing oil based stains, but does a poor job of removing just about everything else.  Dry cleaning is a "dry" process because of the absence of water in the cleaning solution. The cleaning solution's lack of water allows us to clean garments without risk of shrinkage, but water soluble stains (food, coffee, tea, blood, ink etc.) require additional treatment for removal.
What separates the true professional dry cleaner, from the guy with a machine and a sign, is the ability to remove difficult stains from fragile fabrics.
Proper stain removal requires both a technical knowledge of basic chemistry as well as the hands of a skilled artisan. Various stain removal solutions based on acids or alkalies  are applied depending on the composition of the stain. Stains are "massaged" and "tamped" to facilitate removal. Steam and compressed air are used to flush out the last traces of the stain. One false move during this procedure and oops, you have a hole where the stain was.
Many discount dry cleaning firms cannot afford to hire an expert dry cleaning technician and may employ someone with limited skills. This is not the place to bring your stained Chloe top or Valentino suit. It's too easy for an unskilled dry cleaning technician to "go to far" when attempting stain removal and end up damaging your garment.
Your dry cleaning shop should dispense "free advice" when it comes to stain removal. Not every stain can be removed from every garment, but a great dry cleaner should be able to let you know if there is a chance of stain removal.
This is where you can be a big help. If you recall what the stain might be please let your dry cleaner know. Not having to guess will help the dry cleaner start in the right direction.
Thanks for listening and I encourage your comments- Jerry Pozniak
Related posts:

(https://www

NULL

.addtoany

NULL

.com/share)