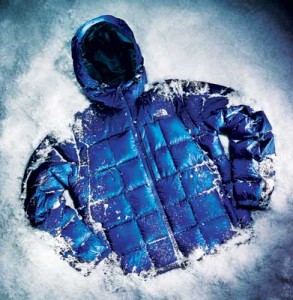 As the weekend approaches, so does the impending doom of yet another winter storm bringing with it lots of frozen precipitation, and the need for the warmest of your outerwear.
Your man Jeeves has had just about enough of these cold New York days, and is certainly ready for spring and the warmer weather. However, on these brisk days he braves the streets wearing his down jacket which he only used to wear on the exceptionally cold days because it was quite an ordeal to clean.
In the past Jeeves had avoided cleaning this jacket at great lengths due to the fact that the first one he purchased when arriving in the US was almost ruined because of his ignorance to care for a garment he was unfamiliar with.
Many down jackets instruct the consumer NOT to dry clean these jackets. Why? Typically, in the dry cleaning process the feathers all clump together so that their warmth is no longer distributed throughout the entire jacket. Worst of all, the chemical odor lingers in the feathers and follows you everywhere.
The same results tend to happen with home cleaning sans the cleaning odor, but with the added potential for a devastating headache as many cleaning professionals instruct that tennis balls or sneakers be placed in the dryer with the jacket to help redistribute the feathers.
This cleaning was a futile effort for your man Jeeves until now. With the introduction of the CO2 machine, and this being Jeeves' first winter with the ECO2 Cleanse process he figured he would try his luck. By this point he had tried everything else…
Before cleaning Jeeves was very hopeful, for he had helped Mrs. Jeeves during the last snow blast, and had seriously soiled his jacket. In case you were unaware your man Jeeves LOVES color, so his vibrant jacket does not conceal stains well.
The results were remarkable! The jacket was removed from the machine spotless, odorless, and colder than the temperature outside the store. Your man Jeeves felt like he had just received a brand new jacket and it only took half the time of regular dry cleaning.
CO2 dry cleaning is able to clean any down jacket much better than any other process and in much less time.
For all your down jacket cleaning needs come visit your man Jeeves, the only luxury garment care firm with CO2 in all of Manhattan.
Related posts:

(https://www

NULL

.addtoany

NULL

.com/share)