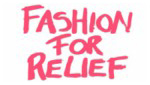 The highlight of Fashion Week NYC for your man Jeeves was the privilege to be a part of Naomi Campbell's extraordinary charitable show Fashion for Relief with all proceeds benefiting CARE an organization working to rebuild the health care system for women and children in Haiti.
Your man Jeeves arrived at Bryant Park hours before the show was scheduled to begin in order to set-up his table full of garment care supplies to assist all the stylists , models, and dressers backstage before they took to the catwalk.
Upon arrival Jeeves and his staff could hardly believe their eyes at their sheer volume of couture that greeted them backstage. Your man Jeeves had to take a few deep breaths, since he and his craftsmen were there to collect all these   gorgeous items for cleaning following the show.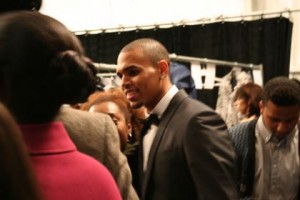 Within minutes of being setting up Jeeves' most experienced seamstress, Marcia Moore was put to work to insert shoulder pads into a shockingly red dress later worn by Kelly Osbourne. This was not the only time throughout the evening that your man Jeeves was at the service of the evening's celebrity guests, all styled by the ever demanding Rachel Zoe. A very distressed assistant rushed over with a Dolce & Gabbana suit that desperately needed to be pressed before rapper Chris Brown took to the runway. Your man Jeeves was right on it.
Despite the high energy of all the models and celebrities present backstage having quite the raucous reunion, the attitude near our workstation was a bit more somber as we were in the immediate proximity of the individuals from Alexander McQueen just one day after the legendary designers unexpected death. The Jeeves team worked on alterations on two pieces that were both worn in the finale, one by the host Naomi Campbell herself.  Marcia also labored over a pair of exquisite shingled shoes that spoke to the true nature of a McQueen design.
As it drew closer to 7 the backstage area turned into pure chaos as your man Jeeves had a line of individuals waiting to have their gowns pressed before hitting the runway. One gown already had a person in it! This person was none other than Cecily Lopez who giggled as a Jeeves staff member informed her that the dress could not be pressed with her inside of it…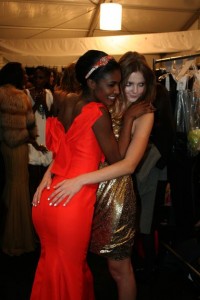 Once the show began Jeeves and his team were able to relax and enjoy a little bubbly as the models changed from their couture to their finale outfits which entailed all models wearing t-shirts that read "To Haiti with Love." Your man Jeeves was more than willing to offer his seat to an exhausted Malin Akerman (27 dresses) and Olivia from MTV's reality show The City who swore " she was never one to complain about sore feet!"
After the show was over the real work began for your man Jeeves and his team to collect all the gowns worn during the show for cleaning. Jeeves has donated his services to Fashion for Relief, so that all gowns will be as good as new when they are auctioned on Net-A-Porter after the London show next week. Jeeves of London is also doing all the cleaning for the Fashion for Relief event being held Friday during London Fashion Week.
There were some trips, tumbles, and unfortunately tears but the New York Fashion for Relief show has already raised over $100,000 just from ticket sales. It truly speaks to Campbell's legacy that she can organize such a remarkable event on two different continents to help out those suffering a horrible ordeal.
Your man Jeeves will have more to share later about all the extraordinary gowns we have cleaned.
Related posts:

(https://www

NULL

.addtoany

NULL

.com/share)