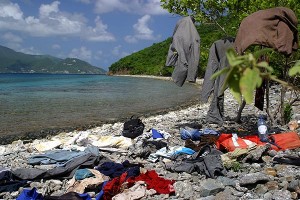 Your man Jeeves has become pretty social media savvy, and can be found frequently perusing various blogs as well as updating his twitter account ( you can follow him @thedrycleaner if you please).
Today was too hot for Jeeves, so instead of taking a stroll at lunch he surfed the web and came across some very shocking news on ecostiletto.com…
According to the EPA, each one of us throws out 70 lbs. of clothing and textiles every year, that's 4% of the landfill!!! The ladies at ecostilleto encourage " closet monogamy", and discourage " disposable fashion".
While your man Jeeves believes that you should love your garments, he finds that the life of your wardrobe will greatly extend with the use of services such as ECO2 Cleanse offered exclusively by your man Jeeves. By selecting a green alternative for the preservation of your wardrobe, you can experience this long term love affair with your wardrobe due to the gentle cleaning abilities of the liquid carbon dioxide cleaning process.
The "ecoistas" also refer to upcylcing within your wardrobe, to keep it sustainable and fresh.  Jeeves loves nothing more than to see a client come in with an outdated piece, present it to his master tailor, and VOILA! You will be turning heads everywhere you go on Madison Ave.
No task is too great for the cleaning and tailoring experts at Jeeves New York. Your wardrobe can truly last you a lifetime if you allow your man Jeeves to care for your clothing.  Residents of New York looking to keep your wardrobe fresh without impacting the environment give Jeeves a ring he will be happy to assist you.
Related posts:

(https://www

NULL

.addtoany

NULL

.com/share)