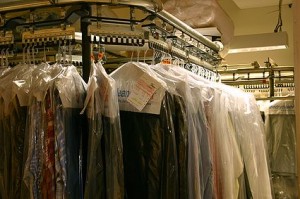 With all the fun that Jeeves had during Fashion Week he had almost forgotten about all the other news updates he had been receiving over the past two weeks. Your man Jeeves always likes to stay well informed especially when there is news pertaining to his trade.  The dry cleaning industry suffered a fatal blow as the news shed some new light onto a very touchy topic.
The most common dry cleaning chemical, perchloroethylene (perc) has been labeled by the US EPA as a "likely human carcinogen" in a report (http://www8 NULL.nationalacademies NULL.org/onpinews/newsitem NULL.aspx?RecordID=12863) published this week. Another report (http://www NULL.thepi NULL.org/index NULL.php?src=news&refno=14&category=News%20Articles)report released by The Parkinson's Institute and Clinical Center  links perc exposure to Parkinson's disease.
Now you know why your man Jeeves is so adamant about his ECO2 Cleanse process…
Currently 85% of all dry cleaning firms in the US still use Perc to clean clothes! Your man Jeeves is not the best at math, but there are over 3,000 dry cleaners alone in Manhattan so imagine what that means on a national scale and 85% of them are still introducing a toxic chemical to their clients??
Fortunately, in a few months,   any machine  that is 15 years or older still operating with Perc will be banned in the state of California.  A statewide ban on all machines using perc will take effect in 2023. Your man Jeeves thinks that 10 years is a long time to wait for change, but is also curious why other states are not working towards passing similar legislation?
Your man Jeeves knows that his CO2 Cleaning machine is not inexpensive, however there are other cleaning alternatives that could greatly reduce the use and need for perc. Currently, the US EPA has listed two methods of garment cleaning "safe", CO2 dry cleaning and wet-cleaning.
Jeeves has boasted time and time again about the superb cleaning capabilities of his CO2 ECO2 Cleanse process, and wishes he could share these with other cleaners so that they could keep their clients  and the environment safe just like your man Jeeves does for you.
It may be a long time before the permanent ban of Perc, but for now for CO2 dry cleaning and wet cleaning in NYC Jeeves New York is completely Perc free!
Related posts:

(https://www

NULL

.addtoany

NULL

.com/share)