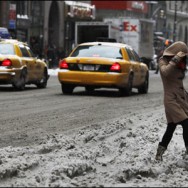 With another storm predicted for tomorrow the weather is taking a toll on every-one's wardrobe. It's not so much the snow, which is just water, but what the snow turns into when it becomes a gray and slushy.
When snow melts in New York CIty it becomes a nasty brew of water, rock salt, calcium chloride and dissolved oil and grease. The water and oils are too much of a problem but if left for extended periods of time, the rock salt and calcium chloride will damage your wardrobe.
The type of fabrics most effected by salt and calcium chloride are wool and silk. Not too many of us are wearing silk this time of the wear, but wool is common. Salt stains will occur at the bottoms of pants and on coats when you get splashed by those drivers who relish in driving fast through puddles to cause maximum collateral damage to helpless pedestrians.
Salt and calcium chloride will cause damage and color loss to fabric if left untreated. Exposure to salt will cause leather, suede and shearling to "burn", which causes the skin to shrink and become hard to the touch.
Clean any items that have salt rings or splash marks as soon as possible. Laundry will remove salt, but generally wool is not a washable fabric. Wool should be dry cleaned which will remove the damaging salt. Jeeves' CO2 dry cleaning process does a remarkable job of removing salt with out putting undo stress on the garment being cleaned.
With the winter of 2011 becoming one the the snowiest on record it would be a good idea to clean your most used winter winter coat now to insure that salt stains do not cause permanent and costly damage.
Thanks for listening, Jerry Pozniak,
Related posts:

(https://www

NULL

.addtoany

NULL

.com/share)