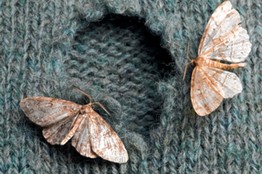 Moths work wonders on our favorite winter wear while in storage or the back of our closets. And though we may take our clothes out of hibernation, and bring them to the forefront of our closets; assuming a good 'airing out' will get rid of the moths, will leave you with even more holes.
Once you notice that your clothing has any kind of moth damage, it is important to clean that garment or give it to your dry cleaner for cleaning and hole repair, because moth damage can actually manifest after cleaning. Eggs may be present in the garments, or the areas that the moths have damaged can continue to weaken, making the holes larger.
Any future questions about moths and your clothes? Contact clientservices@jeevesny.com!
Related posts:

(https://www

NULL

.addtoany

NULL

.com/share)