Above is an extreme example of what "invisible weaving" can do when a garment is damaged.
Usually, at Jeeves New York, we are able to repair some tears and holes using our re-weaving craftsmen, but in this case to save a client's favorite jacket, we had to take extraordinary measures.
In order to repair this large burn in the sleeve of this jacket we needed to take fabric from inside the jacket to use to weave into the damaged area. This is called a "piece weave" as fabric is woven into the existing fabric to repair a damaged area. This technique is used for large repairs or when the fabric does not allow a "thread by thread" weave. The downside of a piece weave is that the shadow of weave is somewhat visible. This repair is not a patch, the fabric is woven into the damaged area, not sewn.
The cost of this repair, including modifying the inside of the jacket where the fabric was taken, was $750 and took about three weeks time.
The results were very good and the client was ecstatic that he could continue to wear his favorite jacket.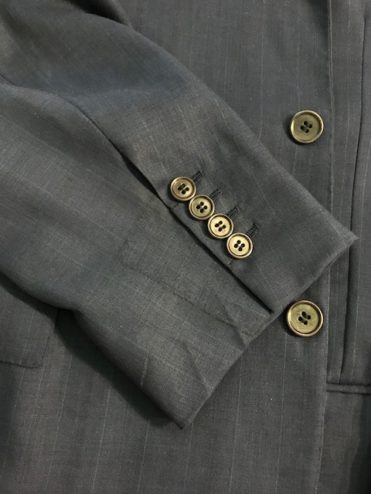 Related posts:

(https://www

NULL

.addtoany

NULL

.com/share)