Have you been dreaming of pumpkin pie, the crackling of a warm fire, and chunky cable knit sweaters? Us too! Thanksgiving is an amazing holiday that brings everyone together to appreciate the many wonderful things they have in their lives. As excited as we are for the food, Thanksgiving also presents an opportunity to show off your unparalleled Fall style. If you are having some trouble picking out an outfit, here is some inspiration that will make you thankful for Fall fashion:
The Bloggerella (http://thebloggerella NULL.com/outfit-of-the-day/love-ny-blanket-scarf-soho/) looks cozy-chic in this effortless ensemble. If you're the type of person who spends less than 10 minutes curating an outfit yet still manages to be the best dressed, this outfit is for you. A little black dress is great for the holidays, the perfect camouflage for any post-Thanksgiving dinner pouch that will surely occur! You can dress up this look by adding a strappy pair of heels with your favorite purse and voilá! Holiday chic with minimal effort. To make this look weather appropriate, just add a long cardigan and blanket scarf and you're ready to head out the door looking chic as ever.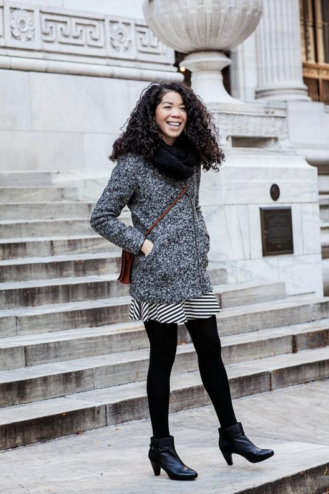 For the stylista who can never be warm enough, The Style Boro (http://www NULL.thestyleboro NULL.com/blog/2014/11/chilly-cold-weather-office-style-outfit-ideas) offers the perfect layered outfit without looking like a bulky mess! It can get pretty cold in New York, but that doesn't mean you have to sacrifice your style. To beat the cold weather, put on a pair of thick tights under a patterned dress and layer it with a sweater. If that isn't enough, try topping off your outfit with a coat and an infinity scarf. This outfit makes layering a breeze (without feeling one!).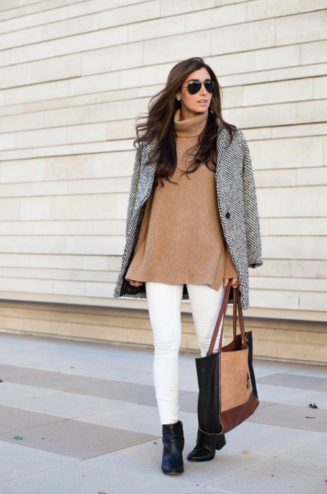 The Darling Detail (http://www NULL.thedarlingdetail NULL.com/staying-neutral/) proves that, when paired together, neutrals can certainly make a loud statement. Wearing nothing but wardrobe staples and neutral colors, this outfit is the epitome of a classic Thanksgiving dinner look. You can never go wrong with an oversized sweater and skinny jeans. Here, the white jeans serve to break up the neutral colors, creating the perfect balance. Jessie ties this look together with a patterned coat and a color-block bag, proving that basics truly can make an outfit standout!
Be sure to check each garment of your outfit for any stains, minor holes, or snags. You'll be happy you checked because you'll have just enough time to send them to JeevesNY to be dry cleaned (https://jeevesny NULL.com/services/dry-cleaning/) for the big day! Let us help you be the talk of the dinner table!
Related posts:

(https://www

NULL

.addtoany

NULL

.com/share)