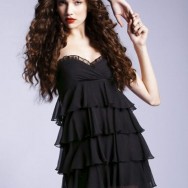 Jeeves has no doubt that the closets of ladies all over Manhattan are bursting with  with Little Black Dresses, suited for any and all occasion leaving him  overly familiar with the care such garments require.
Yesterday afternoon Jeeves received a call from celebrity stylist Robert Verdi. A client of his was having a MAJOR Fashion Emergency, and as he is a long standing client as well as dear friend of Your Man Jeeves he knew just who to call.

The Problem: The Editor-In-Chief for a very prominent publication hosted a dinner for President Obama, following his fund raising activities yesterday evening, and just hours before they were to be seated the zipper to her Black Valentino Dress broke.
The Solution: After Jeeves had been alerted of the issue, he instructed her assistant to bring the dress to the shop to be repaired immediately. Thirty minutes later the dress was as good as new, and ready for it's presidential debut!
Jeeves was pleased that his staff was able to so readily assist and resuscitate the dress, as the only thing that would be worse than meeting President Obama with a wardrobe malfunction would be meeting the ever stylish First Lady under those circumstances.
LBD's will continue to be vital wardrobe staples; crucial to successful event execution it is important to keep in mind that your man Jeeves is here to rescue your Little Black Dress; no matter the time, no matter the circumstance.
Related posts:

(https://www

NULL

.addtoany

NULL

.com/share)