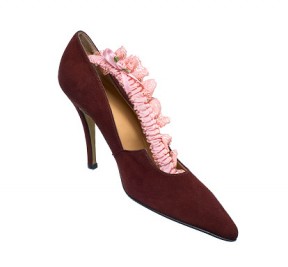 Besides fabulous wardrobes, your man Jeeves cleans and repairs fabulous shoes as well. How convenient is it to have the Jeeves van collect your clothes for cleaning and your shoes for repair?
Shoes like clothes should be impeccably maintained to insure a long life. As soon as soles and heels wear they should be attended to as soon as practical. It left to wear for too long a time then expensive rebuilding will be necessary.
Shoes should be kept clean and polished to protect the leather. The polish acts as a barrier to ward off soil and water stains.
Rotate your shoes to give them time to relax after wear. Try not to wear the same pair of shoes twice in a row.
After wearing to maintain the proper shape, shoe trees should be inserted.
For the ladies, Jeeves loves the "oh so pretty" Madame Pump Adores. Custom made, and "chic", it proves that utilitarian does not have to be mundane. Madame Pump Adores are hand-made in New York and available at PumpAdores.com (http://www NULL.pumpadores NULL.com/).
For gentlemen, cedar shoe trees are always a good choice. You can usually purchase them at fine shoe shops as well as on-line.
To arrange for collection of your wardrobe and shoes for cleaning and repair, contact Jeeves at 212-570-9130 or stop by our boutique at 39 East 65th Street in New York City. For more information, go to JeevesNY.com. (http://www NULL.jeevesny NULL.com)
Related posts:

(https://www

NULL

.addtoany

NULL

.com/share)