Yes, I do know it is December, and my apologies for not writing a "Beautiful but Difficult" post for November. But if you won't tell, I won't. For November, is this beautiful silk chiffon and beaded gown spied in a luxury retailer's window on Madison Avenue a few months ago.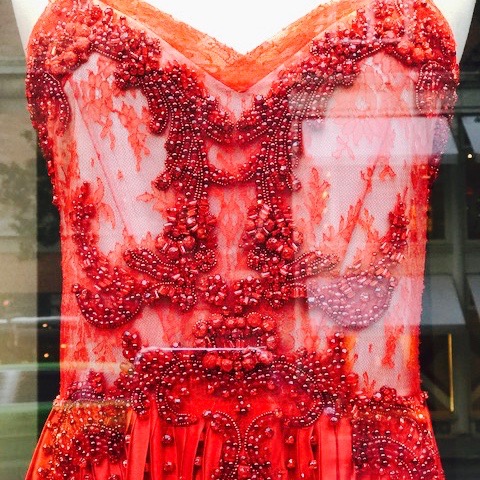 While absolutely stunning, the complexity of the beadwork, make it almost impossible to clean. The silk chiffon fabric that adds lightness and transparency makes the dress very fragile to wear as well. Each bead is sewn on by hand and in most cases, one stitch secures an entire row of beads. Chiffon is delicate to begin with and added heavy beadwork makes the dress more fragile.
Cleaning this dress, if needed, could only be accomplished "by hand".
Jeeves does specialize in hand cleaning, but in many areas, dry cleaners do not have the experience to offer this service.Even for Jeeves the results can, depending on the level of stains and soiling, less through then a full machine dry cleaning. Under no circumstances can a dress with this amount of beadwork, supported on silk chiffon, ever get close to a dry cleaning machine.
Jeeves loves this dress, but the wearer should be careful.
At least with this red, being around red wine should not be a problem. If you have similar dress that is in need of hand cleaning, Jeeves does receive dry cleaning from all over the country and ship back cleaned garments using specially designed wardrobe boxes.
Related posts:

(https://www

NULL

.addtoany

NULL

.com/share)