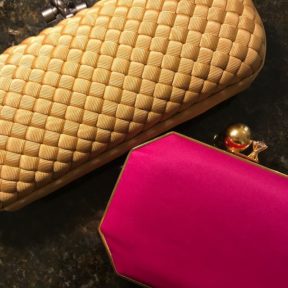 Fabric clutch bags are one of Jeeves' specialities as we have successfully hand-cleaned many a bag for our clients.
If you have a clutch that is need of attention, Jeeves New York may be able to help.
Be warned though, as clutch bags can be difficult to work with, as they were not designed with cleaning in mind. The Jeeves process can help many, but not all clutches can be cleaned.
Most other dry cleaning firms will not handle fabric clutch bags as they require a level of experience that most do not have.
You can inquire with your local dry cleaner to see if they have the expertise to hand clean your clutch. If not, you can send your clutch bag to Jeeves for our process. If you are local you can stop by Jeeves for a complimentary assessment, otherwise we can give you our thoughts is you send us images of your clutch.
Clutch bag cleaning ranges from $85 to $150+, and the final price is determined upon inspection by Jeeves.
Related posts:

(https://www

NULL

.addtoany

NULL

.com/share)