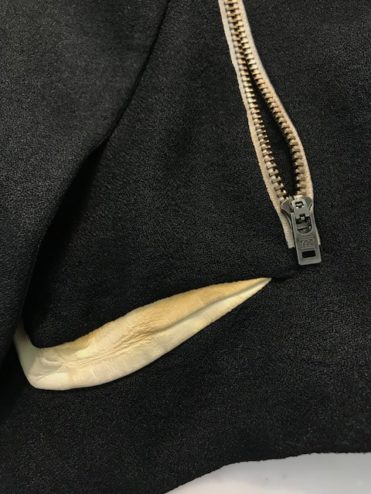 Besides being sewn together, many leather or suede garments are also assembled with glue using to give strength to the seam areas. The issue with the use of glue is that when leather is cleaned is that the glue used at the seams may break down and migrate (bleed) to the exterior of the skin. The image above is an extreme example of glue bleeding.
The above jacket is a mixture of both fabric and leather trim and had been dry cleaned in the past by someone other than Jeeves. Our client sent it to us to see if anything could be done to restore the white leather trim. At this point the leather had been damaged by the previous dry cleaning which caused the glue to bleed. If this garment had been brought to Jeeves for cleaning, we would have advised hand-cleaning only.
Our recommendation to restore this jacket, would be to replace all of the leather trim with new leathter.  At this point our client is considering her options.
Any leather garment may exhibit glue bleeding after cleaning. The craftsmen at Jeeves will point these issues out to our clients prior to cleaning so that they may make an informed decision to proceed with cleaning or not. In many occasions when glue bleeds on a leather or suede garment it is not a severe as the example above, but will cause the seamed areas to darken.
If you have questions about cleaning leather or suede, Jeeves is here for you. If you have a question please email us at clientservices@jeevesny.com.
Related posts:

(https://www

NULL

.addtoany

NULL

.com/share)