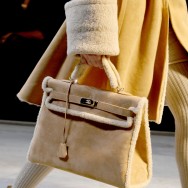 Your man Jeeves knows his clients are no strangers to shearling garments. Let's face it, shearling is a fashionable way to keep super warm now that the temperatures have dipped in the single digits in New York.
However, because shearling is an investment and the winter weather can wreak havoc on your winter wardrobe, most shearling owners find themselves hesitant to pull them from out of the closet on the nasty days.
Jeeves wants you to be happy, fashionable and warm, so he put together a little list of tips that will bring you comfort while you wear that shearling garment in any weather. Here is his advice:
#1 – Keep your shearling away from salt.
The salt can burn the skin, making it as hard as cardboard. If splashed with salt and/or snow, have your shearling garment cleaned ASAP.
#2 – If your shearling gets wet, air dry it.
Never put it into a clothes dryer.
#3 – When your shearling shows signs of soil, have it cleaned.
If you wait until it is extremely dirty, it may never look new again.
#4 – Hang up your shearling on a proper hanger.
Don't use a skimpy wire hanger or a door knob. You will distort the skins.
#5 – Never store shearling in plastic.
Use a breathable, cloth garment bag.
#6 – Don't store shearling in a place that gets direct sunlight.
This may cause damage to the dye of the shearling.
#7 – When your shearling needs to be cleaned, consult an expert.
Your neighborhood dry cleaner may not have the expertise to take care of your investment properly. Cleaning shearling is not like cleaning fabric.
#8 – Never put tape or stickers on your shearling to indicate stained areas.
The stickers will leave marks, that may not come out after cleaning.
Jeeves has the expertise you and your shearling need, as well as, over 30 years of luxury cleaning experience.
Related posts:

(https://www

NULL

.addtoany

NULL

.com/share)