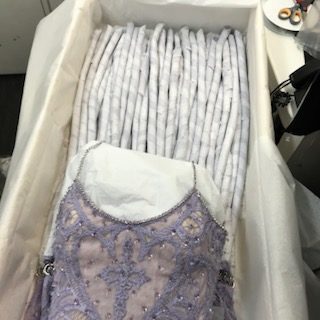 You hear the term preservation used most frequently when taking care of wedding dresses. After the wedding has taken place many brides then express an interest in having their dress cleaned and then preserved. What is the actual preservation process? Is the garment being preserved dipped in special chemicals to render the fabric impenetrable to the ravages of time?
Preservation is actually super simple and involves no hocus-pocus. Cleaning is the first and most important step in preserving any textile for long term storage. Certain types of stains will oxidize (turn brown) over time, if not cleaned and treated. Some stains will dry "invisible", and over months or years without treatment, slowly turn brown. Once oxidized, stains can be almost impossible to remove without extreme methods which may cause fabric damage.
After cleaning and neutralization of potential oxidized stains, the garment is steamed to remove wrinkles prior to preservation. Preservation is the careful boxing of a textile using acid-neutral materials to minimize yellowing and fabric deterioration during long term storage. When a garment is boxed for preservation folded areas are cushioned using acid-neutral tissue to prevent creasing. The garment is wrapped in acid-neutral tissue and unbleached-unsized cotton muslin for added protection. The box itself  is constructed from acid-neutral, breathable cardboard. What is important is that the box is not sealed and can be opened at any time to view the condition of the garment during storage. Jeeves does not use plastics in the preservation process which could off-gas or trap moisture, which could harm the garment.
The last part of preservation is up to the client, the garment should be stored in a closet, preferably on an interior wall to prevent major temperature variations. Garments should never be stored in attics (too hot) or basements (too damp). Even basements that are finished should not be used for garment storage.
Wedding dresses are most commonly sent to Jeeves for preservation. Jeeves just finished a project of couture red carpet gowns that were hand cleaned and preserved.
If you have questions about garment preservation, please contact Jeeves New York (http://www NULL.JeevesNY NULL.com).
Related posts:

(https://www

NULL

.addtoany

NULL

.com/share)