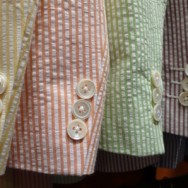 It's hard to believe that with this Seattle-esque weather that New York has been experiencing before Memorial day marks the beginning of the summer season. If you are like your man Jeeves you have been anticipating the sun not just for the summer Fridays coming your way, BUT more importantly because of the seersucker and linen waiting for you in your closet.
While Jeeves trusts that most of you were kind enough to visit him after the last summer season to drop off your summer garb to ensure for one final cleaning before storing away, it wouldn't hurt to give them a quick once over before heading East this weekend.
Many stains linger on white fabrics such as champagne, perspiration, and perfume that are invisible to the naked eye but may have oxidized over the winter as a result of improper cleaning. What you may be seeing now are yellow stains.
Not to worry your man Jeeves and the lads at his cleaning workshop can reverse the effects of neglected clothing—turning your whites brighter than ever! Jeeves' craftsmen employ a liquid CO2 dry cleaning system that is heat free, gentle on your clothes and removes more stains than any other type of dry cleaning.
Give your man Jeeves a call today to give your wardrobe a quick clean before heading out of town for the weekend!
For the best dry cleaner in New York City to care for your summer wardrobe; the only choice is Jeeves New York.
Related posts:

(https://www

NULL

.addtoany

NULL

.com/share)