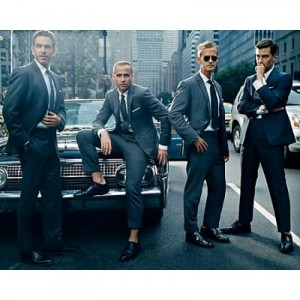 As you may know your man Jeeves always dresses to impress for that is customary of a gentleman. A well fitted suit and a nice tie are the perfect accessory to a well mannered demeanor.
The younger generation has have to fancy this style, and Jeeves has noticed that for both work and play these young men do not seem to be at a shortage of pinstripes, jiggers, and pleats. Recently, Jeeves was enjoying a nice afternoon in Central Park and discovered that The New York Times had observed this trend as well.
The article indicates that those who are in fact "dressing for success" are young men ranging from ages 20-30 and that your man Jeeves and his generation have taken a more casual approach to their wardrobe. It is also mentioned that this fashion change is widespread "from Madison Ave to the shopping malls" and that this is the cause of "the resurgence of the gentleman."
Please forgive your man Jeeves for so openly disagreeing with this well respected publication, however residing just steps away from Madison Avenue but he is sure that the gentleman never left. Everyone knows Jeeves to be a gentleman and his clients are no different.
While a suit may give one the outward appearance of a gentleman, a true gentleman has his disposition to compliment his attire.
If any gentlemen in Manhattan are in need of a tailor for their suits the wonderful alteration team at Jeeves can ensure that you remain dapper for your day to day affairs.  In addition to suit alterations the team can:
Mend missing buttons
Fix stuck zippers
Shorten or lengthen sleeves & hems
Repair holes & tears
Whether you are trying to emulate the look of Don Draper, or keep up with your fashion forward employees your man Jeeves will make sure you put your best foot forward when you leave our store. For alterations and tailoring NYC come to Jeeves of Belgravia.
Related posts:

(https://www

NULL

.addtoany

NULL

.com/share)