As much as we love a giant coat in the winter, we are not completely ready to let go of summer yet! Satins made a huge comeback this year and there is a good reason why: the fabric is lightweight and luxurious in its simplicity. From chic satin slip dresses to statement bomber jackets, you can see this versatile fabric being sashayed on the catwalk from London to New York!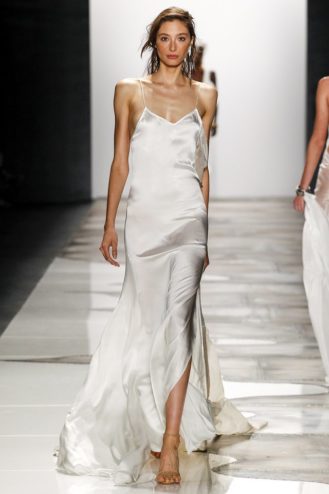 This 'plain' white dress by Greg Lauren is anything but, and redefines 'less is more' elegantly. The silhouette is clean yet the dress has a lot of movement, and the satin creates a soft look that is reminiscent of old hollywood glamour.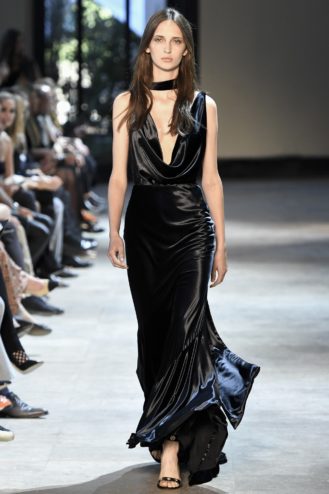 This statement glossy satin dress is by celebrity favorite Alexandre Vauthier. His designs are experimental and provocative, and a favorite amongst megastars like Rihanna, Beyonce and Kylie Jenner! The satin material picks up the light wondrously and drapes beautifully around the models figure, accentuating her curves. If we know anything about fashion, and we like to think that we do, one or more of the aforementioned celebrities will definitely be in this piece sooner, rather than later!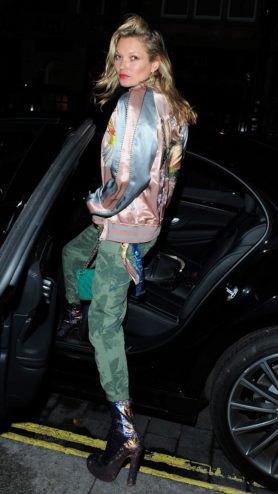 Satin isn't just about billowy fabric, but about structure. One of our favorite satin trends is the effortlessly cool satin bomber jacket. The sophisticated, yet fun sister of the functional parachute bomber; it is a favorite amongst fashion icons like Kate Moss. We just love her in this athleisure Louis Vuitton bomber style jacket that adds an extra layer of dimension and with its soft pastel colors and edgy design, still manages to be a show stopping piece.
As we know you love this trend as much as we do, here are some tips on maintaining this beautiful yet delicate material.
Satin is a weaved fabric so it can easily snag and lose shape in the washing machine. Therefore, NEVER put it in the washing machine.
If you are going to wash a satin piece at home, the only option is to hand wash it with cold water. This will prevent the dye from transferring.
Hand washing is not always a good option though, as some satins are too delicate even for that!  For example, for satin made with a silk-and-acetate combination, dry-cleaning is the only way to go. At Jeeves, we take careful measures to keep the color and the material intact, so your satin looks as glossy as it did when you first bought it! (https://jeevesny

NULL

.com/schedule-pick-up/)
We hope you enjoyed this post, check in next week for more tips!
All photographs are from Vogue.com (http://www NULL.vogue NULL.com/slideshow/13479466/emmy-awards-red-carpet-celebrity-fashion-style/#1).
Related posts:

(https://www

NULL

.addtoany

NULL

.com/share)