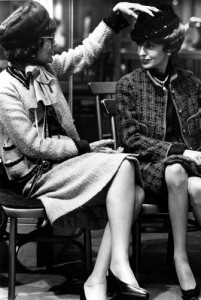 "I love luxury. And luxury lies not in richness or ornateness but in the absence of vulgarity."
-Coco Chanel
Chanel has always been a presence both in and around New York City. With two retail locations just blocks away from our store on the Upper East Side, your man Jeeves has always loved the double C.
Not until recently however, did your man Jeeves realize that he and this fashion icon shared so much in common. As a gentleman it is only natural that Jeeves does not care for vulgarity, and typically keeps company that shares this.
Too bad for Jeeves that he and Coco were never able to discuss their love of luxury, their aversion to crudeness, or their appreciation for fashion.
As you all know Jeeves of Belgravia is the only international luxury garment care firm, so your man Jeeves would have been able to tend to all the needs of this legendary fashion icon. His reputation for quality and excellence most definitely precedes him.
Your man Jeeves can promise you service above the rest. His love for luxury items, as well as his staff's expert training in this field guarantees your garments will be well cared for. His CO2 cleaning process assures that your wardrobe will be taken care in a manner which cannot be replicated anywhere in New York City.
Jeeves offers other luxury services besides dry cleaning such as tailoring, shoe repair, handbag repair, and bridal gown preservation. For a full list of services click here. (http://www NULL.jeevesny NULL.com/)
For luxury dry cleaning NYC , luxury tailoring NYC, and bridal gown preservation NYC come to Jeeves of Belgravia.
Related posts:

(https://www

NULL

.addtoany

NULL

.com/share)