What a wonderful week it's been in New York City. Fashion Week has come to a close but there are so many takeaways in the trend department. While many thought the idea of being able to buy collection pieces right now may tarnish fashion week as we know, that didn't seem to put a rut in designers bringing their A game. Here are some of our favorite looks from the runway.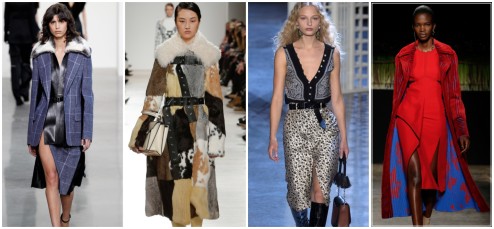 From L-R: Calvin Klein, Proenza Schouler, Altuzarra, J. Mendel
There were beautiful furs and beautiful silks. Collars were played up as well as scandalous (but elegant) slits. Most designers seemed to be printed obsessed, whether it was understated or bold.
From L-R: Altuzarra, Proenza Schouler, Marchesa, Tory Burch
Don't forget about the pants!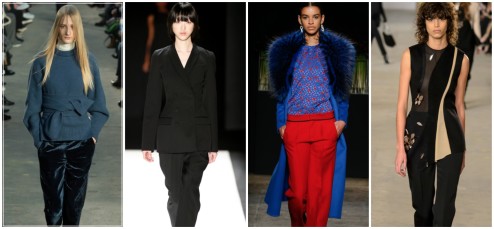 From L-R: 3.1 Phillip Lim, Vera Wang, J. Mendel, Boss
All photos via Vogue.com (http://www NULL.vogue NULL.com/fashion-shows/fall-2016-ready-to-wear)
The only thing fashion week doesn't consist of is care instructions. You were one of the lucky few to snag pieces straight from the runway, and after a night of partying in your new dress it's time for a clean. Here's some things to consider the morning after:
The champagne someone spilled on you IS a big deal, even if it's clear. Over time it can leave a yellow ting on your clothing. Make sure to deal with the spill right away with something light like water and pat dry. You should bring it to Jeeves the next day so we can remove the stain.
Jeeves is also an expert in cleaning multi-colored/textured garments. We test all fabrics to determine the best method for cleaning. If necessary, we will disassemble the piece to avoid bleeding and tears in fabric.
Don't fret about leather, fur or velvet because Jeeves has a special process for all of it. Fur goes through a special cleaning process that involves corn cobs ensure the vitality of your fur. There are also onsite specialists that will determine the best way to care for your leather and velvet.
Jeeves will help you make sure you can wear your garment more than once. Don't let things sit in your closet because of stains or fear that it can't be cleaned properly. Come see you at Jeeves!
Related posts:

(https://www

NULL

.addtoany

NULL

.com/share)