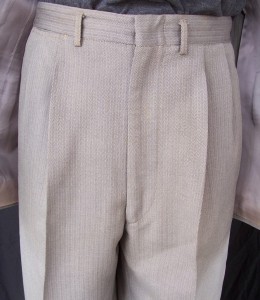 "Clothes make the man", or so I was told some time ago by my father, and more than likely ignored by myself.

After my firm acquired Jeeves of Belgravia (http://www NULL.JeevesNY NULL.com) I went to visit Elisa Niemtzow of Taste Generation (http://www NULL.tastegeneration NULL.com) to better understand how to dress and look my best. The first thing Elisa commented on was my pleated pants. "Pleats make your profile too wide, you need to wear flat front pants", Elisa said.
Elisa said wide, I think "fat".
I digress, Jeeves of Belgravia is the only world-wide garment care firm, with branches in New York, London, Hong Kong, Istanbul, Jakarta and soon in Bahrain as I must "toot" my own horn.

From a fashion perspective most style mavens suggest not wear pleated pants, they are dated and make most of us look heavy. Imagine that, heavy Americans.

In my opinion there is nothing worse than pleated pants that are tight and pull across the waist area.
Please wear pants that fit.
When you have your flat front pants cleaned you should let the person at the counter know if you would like them "creased" or not. The rule-of-thumb that we use at Jeeves of Belgravia is that flat front pants are not creased (they are rolled) and pleated pants get creased, but we always do as our clients ask.
By the way Elisa was right, now almost all of my pants are flat front and I wear a suit every day to work.

Pleats for women are another subject and I'll talk about them next time.
Thanks for listening.

Related posts:

(https://www

NULL

.addtoany

NULL

.com/share)