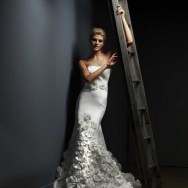 What will you do with your wedding dress after the wedding? Saving? Donating? Selling?
With each of these scenarios cleaning your dress should be factored in; are you really going to try to sell your dress with a dirty hem line? Did you know that putting away your dress soiled may cause ugly yellow stains to appear after 6 months?
How do you choose a dry cleaner to clean your wedding dress?
In New York City, dry cleaners have bred like rabbits, there is practically one one each block. While the local guy may be fine for your jeans, he may have no clue what to do with your wedding dress.
When you clean your wedding dress you need a speciality dry cleaner; one who has a lot of experience cleaning wedding dresses.
Trust me on this. Wedding dresses are no joke to clean, they are usually embellished with, let's say, "challenging trim items".
Organza, lace, beads, sequins, Swarovski crystals and satin. All of which most dry cleaners do not see on a regular basis. All of which need special care so that they do not self destruct during cleaning.
Jeeves New York has the necessary experience and managing director, Jerry Pozniak has over 26 years of hands-on dry cleaning experience. He is so respected in the industry that other dry cleaners consult him when they have a problem. Jeeves is recommended by bridal retailers; Selia Yang, Bergdorf Goodman, Lanvin, Reem Acra and Vera Wang.
Jeeves New York can contacted at 212-570-9130 or www.JeevesNY.com. (http://jeevesny NULL.com/home)
Related posts:

(https://www

NULL

.addtoany

NULL

.com/share)