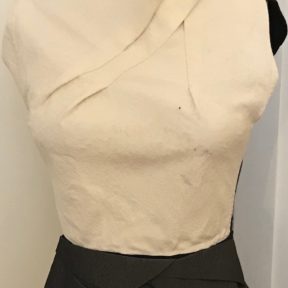 Jeeves usually does not tattle when a designer creates a garment that cannot be cleaned safely, but as we have had issues with three dresses by Roland Mouret, we must tell.
The first two dresses with problems, were black and white color blocked. For both, the black dye was not "fast" and would have bleed onto the white portions of the dress if dry cleaned normally. Hand cleaning was not an option for either dress due to the severity of the soil, so we had to disassemble each, cleaning the white fabric separately from the black. Both dresses cost almost $500 for all of the work necessary to do what should have been a simple cleaning.
The dress above is a more involved problem, that even Jeeves was not able to solve.
This Roland Mouret dress does not have a fabric bleeding problem, but was construction using a fusible lining to add texture to the bodice of the dress. Unfortunately this lining dissolved in normal dry cleaning causing black spots to appear on the white fabric. Jeeves was not able to fix this problem.
Jeeves sent the dress to a textile lab for an analysis of what caused the damage. The conclusion from the lab that it was due to the construction of the dress and not the fault of our dry cleaning process.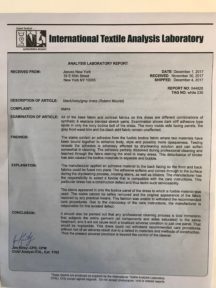 Jeeves reached out to management at Roland Mouret and their answer was; "as the dress is three years old, we will not assume responsibility."  Jeeves is working with the client to solve the problem, though we handled the garment correctly and are not at fault.
It is a shame that a designer would sell a $3000+ dress and not stand behind their name.
Related posts:

(https://www

NULL

.addtoany

NULL

.com/share)