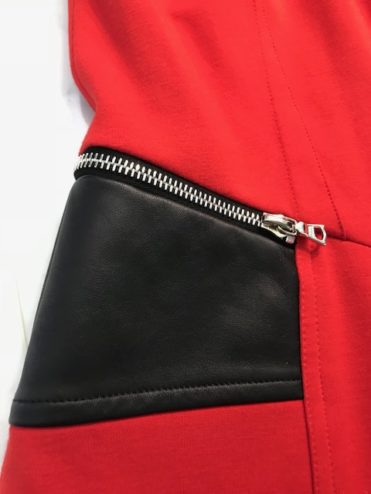 This month's Beautiful but Difficult garment is a wonderful red wool dress with black leather pocket trim.
The garment care label indicates that the garment can be dry cleaned, but testing the garment at the Jeeves workroom reveals that the black leather trim will bleed onto the red base fabric. Thankfully the Jeeves craftsmen at our workroom were able to hand-clean this dress for our client as the soiling was contained to the neckline. If this dress was very soiled, and hand-cleaning was not an option, Jeeves would have to remove the black leather pocket trim from the dress for cleaning.
Jeeves disassembles garments for cleaning on a regular basis, but this makes this dress beautiful but difficult.
Related posts:

(https://www

NULL

.addtoany

NULL

.com/share)