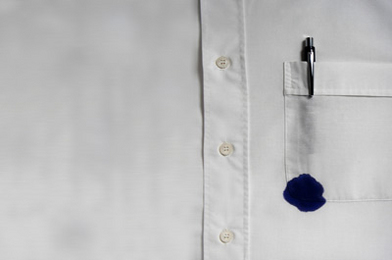 You've been hard at work for hours, well past the 5pm EOD, chewing on the end of your pen. When you're finally done working, you pop the pen in your shirt pocket without a second thought. Gathering your things, and heading out the door you fail to notice the ink explosion that is slowly getting larger and larger, until you get to your car and see your reflection in the driver side window. Your once very white, crisp shirt, has a huge pen mark….What's next?
Two answers.
If you're smart, you'll drop your shirt off at the dry-cleaners on your way home. The less time the ink is in your shirt, the better your chances are that it will return to its tip-top crisp white shape. While often times a local dry cleaner may suffice for most of your items, in this case, it may be best to go for a pricier cleaner with more skill in removing stains from clothes (http://www NULL.jeevesny NULL.com). Ink can be one of the hardest stains to remove, therefore the sooner you get it done, the better.
If a dry cleaner just can't fit into your after-work schedule, when you get home make sure to apply a pre-treatment to the stain, this will allow some lifting of the ink before it is placed in the wash. Also your detergent must include bleach to further lift the stain and restore the white color of your shirt.

Related posts:

(https://www

NULL

.addtoany

NULL

.com/share)