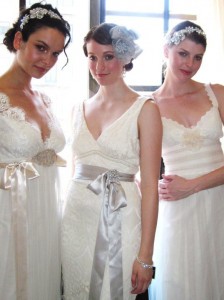 Your man Jeeves has a certain inexplicable soft spot for weddings and all the details that pour into them–especially the gowns.
Jeeves could get lost for hours pouring over the wedding gowns online and in magazines, not to mention all the beautiful brides and gowns he sees on a daily basis at the shop. — so you can imagine the excitement your man Jeeves experiences when the seasonal bridal market week comes to New York.
Although Jeeves did not attend any of the fashion shows he did stop by The Wedding Channel Couture Show earlier this week to visit with some of his favorite designers, so that he could have a first hand look at the gowns before they arrived for care in the store.
As you know Jeeves is recommended by top bridal retailers such as Selia Yang, Vera Wang, Bergdorf Goodman, and Temperley London as he is the only luxury care provider in New York to offer truly green and chemical free wedding gown cleaning and preservation services.
Traveling to New York for your wedding, and don't trust the cleaner back at home? No problem for Jeeves offers worldwide shipping!
For all your wedding gown needs and questions please ring your man Jeeves so that he can care for you and your gown. Don't be shy and withhold the details of the wedding from your man Jeeves as he can't get enough of those details.
Related posts:

(https://www

NULL

.addtoany

NULL

.com/share)