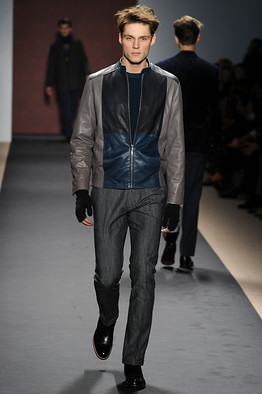 After an exciting but exhausting weekend, Jeeves was thrilled to be in the audience for the show of one of his favorite men's designers, Perry Ellis and not be tucked away backstage.
As soon as the first look hit the runway your man Jeeves already knew he was going to be very busy next fall if these looks are indicative of what is to come. With jackets in deep hues, and made of distinct materials including goat skin had Jeeves on the edge of his seat for what would be next down the runway.
Jeeves was very excited to see that velvet blazers would be returning to the stores next fall, but with a little more flare for the dramatic with their leather trimming.  There was no shortage of fitted suits perfect for your man Jeeves and his clients.
If you also enjoyed the Perry Ellis Fall 2010 collection just remember that your man Jeeves offers the best leather cleaning in NYC, and his chemical free ECO2 Cleanse process will keep your suits looking sharp and odorless!
Related posts:

(https://www

NULL

.addtoany

NULL

.com/share)