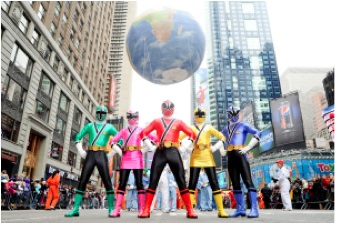 While Thanksgiving is a very deeply rooted American tradition, Jeeves has no problem celebrating ( not to mention over-indulging) as the roots of this holiday lie in merry ole' England with the masts of the Mayflower.
After years of residing in the U.S. , your man Jeeves can't help but to look forward to one of the most highly anticipated events of the year, The Macy's Thanksgiving Day Parade. Unlike many New Yorkers who brave the crowds and the cold Jeeves & Mrs. Jeeves are quite content to watch from the comfort of their own home as they prepare to entertain family and friends.
For the last two years however, this tradition has taken on a new meaning for your man Jeeves as he has been entrusted with the cleaning and caring for the costumes of the Samurai Power Rangers.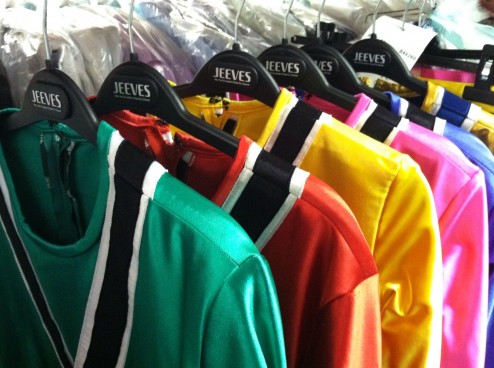 Jeeves has been hard at work for the last few days to ensure that these super heroes are able to impress their fans not only with their martial arts, but with their appearance as well.
Jeeves meet the lead ranger at 10PM after their arrival to JFK on Sunday evening to retrieve these brightly colored spandex ensembles from their cross-country trek. There was no time for rest and no room for the weary as Jeeves and his team went straight to the shop to get to work as they were expected by 3PM on Monday afternoon for rehearsal. On Tuesday morning Jeeves dispatched his tailor to meet with the Power Rangers for a custom costume fitting. Once this session was completed the costumes were once again returned to the workshop for repairs, alterations & cleaning. All were completed in time to be returned for yet another rehearsal early Wednesday afternoon.
While the universe counts on the Power Ranges to protect them against the powers of evil, they rely on your man Jeeves to rescue them from sweat stains and broken zippers (fighting the bad guys is hard work) It may not be as glamorous as being a super hero, but people depend on your man Jeeves in the same fashion.
If you plan to tune in and watch the parade tomorrow morning be sure to keep your man Jeeves in mind as he and his team worked very hard to make sure that the vibrant colors of the five masked heroes stand out to all of those watching.
Happy Thanksgiving from everyone at the Jeeves shop!
Sincerely,
Your Man Jeeves
Related posts:

(https://www

NULL

.addtoany

NULL

.com/share)