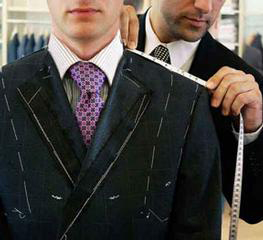 There are few things in this world that Jeeves loves more than a perfectly crafted suit that is both bespoke and handmade. The air of dignity and sophistication that a man possesses when donning a statement piece such as a custom made suit is the look of a true gentleman.
This being said it only makes sense that your man Jeeves, a gentleman's gentleman be entrusted to provide  the finest hand valeting service available for handmade suits.
Jeeves had recently noticed an influx of  Italian names adorning the racks of the shop, and was happy to be joined by his old friends Brioni, Cesare Attolini, and Kiton.
The reappearance of his old friends inspired Jeeves to announce his new service available exclusively for hand-sewn suits.  Jeeves' "Perfect Suit" service maintains the original shape and structure intended by the master tailors without subjecting the suit to the rigors of machine cleaning.
These handcrafted suits are never touched by a machine during creation so Jeeves thought it was only right to apply his white glove treatment and hand clean all hand crafted suits to his standard.
The Jeeves Perfect Suit Service Entails:
Suit analysis performed by multiple Jeeves technicians
Final inspection by Jeeves master tailor
Pressing process with a duration of over an hour
Suits are placed on wooden hangers to maintain shape
Delivered to you in a luxurious cloth garment bag
All seams and buttons are checked
For the cost of $145.00
For the perfect suit, every gentleman needs the Jeeves touch even if it costs extra… call your man Jeeves today to discuss the cleaning needs for your handmade suit.
Related posts:

(https://www

NULL

.addtoany

NULL

.com/share)