The Jeeves New York team was honored to be invited back to the Victoria's Secret Fashion Show (VSFS) for the seventh year running, to take care of the gorgeous fashions backstage for VSFS 2017. This time, setting up our workroom backstage was a bit more involved than setting up in our backyard in NYC.
VSFS 2017 took place live in Shanghai, on November 20th, 2017, and the Jeeves team departed New York on the prior Thursday. After, a relatively simple direct fifteen hour flight, we arrived in Shanghai on Friday afternoon.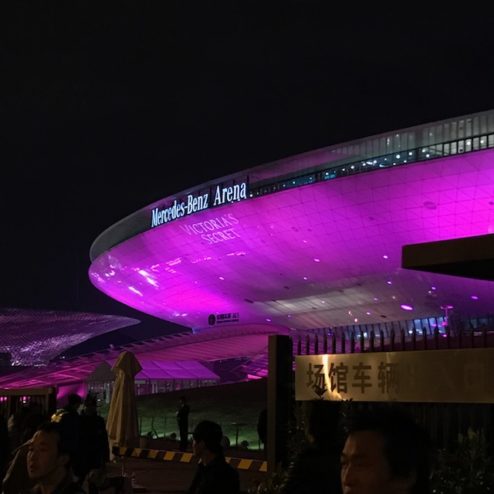 Saturday was a day of getting supplies so that we could set up for rehearsal on Sunday. Our workroom was in the "wing room" backstage at the Mercedes-Benz Arena. It was great to be surrounded by all of the fabulous wings, and to hang out with the "wing makers."
Monday was show day, and the Jeeves team was ready to clean.
The show is performed twice, and any garment that gets soiled during the first performance needs to be cleaned before the second. The clock starts ticking once the first show ends, as there were only three hours between the two shows this year.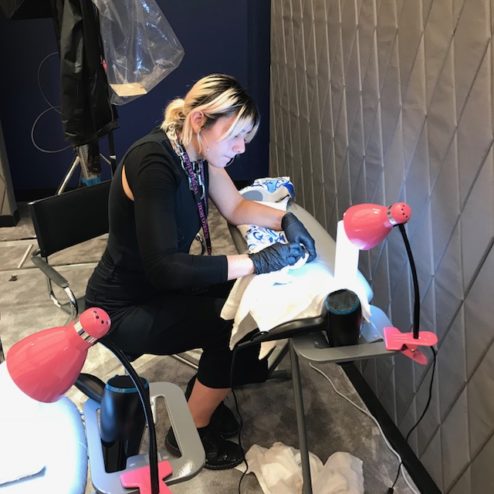 After many anxious minutes, the rolling racks were delivered to Jeeves, so we could start cleaning. On the racks were the fashions straight off the runway. Most of what needed to be cleaned were the long-flowing capes & dresses, embellished bras, gloves, boots, and socks!
The Jeeves team carefully hand-cleaned everything.
Just when we thought we were finished, one of the wing designers asked if we could go to the edge of the stage and clean a wing that needed to be ready in few minutes. We packed our supplies, ran to the stage, and started the cleaning process with a swirl of activity all around us. Romee Strijd, who was wearing this wing, was excited to see the Jeeves team taking care of the stains for her, and snapped a few pictures of us working. This was while Harry Styles was standing just a few feet away from us, and as the show started, we were still cleaning.
At last, our cleaning was done, and the wing was ready for Romee. Overall, the Jeeves New York team had a successful show. We are looking forward to VSFS 2018!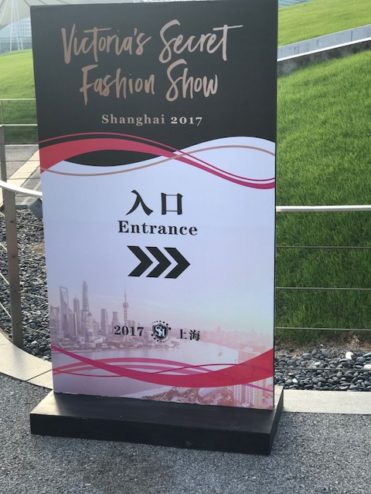 Related posts:

(https://www

NULL

.addtoany

NULL

.com/share)