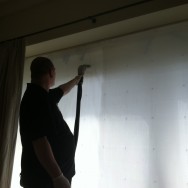 Did you know that the most fragile of roman shades can be cleaned safely by the on-site team at Jeeves?
Our team will come into your home and clean your shades right where they hang. We recently completed a project overlooking the Hudson River with very large windows and very large roman shades. The image above shows the Jeeves on site craftsman in the middle of the cleaning of one shade. You can clearly see the clean side and the un-clean side.
When Jeeves cleans on-site with our method we can guarantee that your window treatments, including drapery will not be damaged or shrink. And your windows will never be naked as we do not need to remove the window treatments for cleaning.
Most projects can be completed in one day and we leave your home in better condition than when we arrived.
Contact Jeeves at JeevesNY.com (http://jeevesny NULL.com/index NULL.php/on-site-cleaning) for additional information about this process.
Related posts:

(https://www

NULL

.addtoany

NULL

.com/share)