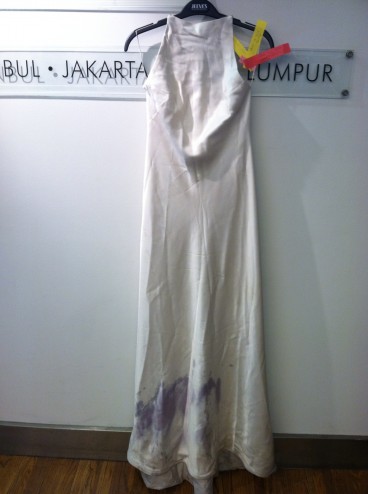 As you know, your man Jeeves has the privilege of working with so many brides throughout the New York area, and often times plays a vital role leading up to the nuptials. Jeeves was introduced to a lovely young lady a few weeks ago, who having purchased a sample gown with only two weeks leading up to her wedding required both cleaning and alterations before the big day. The Jeeves team works their magic and the gown is absolutely perfect for her Prospect Park Wedding.
The young bride had been dreaming about a fall wedding her whole life, so it seemed only fitting that she and her husband-to-be select Halloween weekend as the date for the union. Mother nature had different plans in mind as she dumped an unexpected not to mention unappreciated snow storm over New York on Saturday. This freak storm left the bride unable to take her wedding photos, and her gown very soiled. To make matters worse she had a full glass of red wine spilled on her during the reception!
Jeeves now has his work cut out for him to re-restore this dress in order for the bride to take her wedding photos before the snow comes again!
For all your wedding gown cleaning and restoration needs be sure to come visit Jeeves and his team at the shop on the Upper East Side.
Best,
Your Man Jeeves
Related posts:

(https://www

NULL

.addtoany

NULL

.com/share)