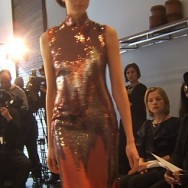 Sequins seemed to have ruled the runway during Fashion Week which wrapped up today. Peter Som, Diane von Furstenberg, J. Mendel, Ralph Lauren, Blanc de Chine, Jenny Packham to name a few, all showed sequins.
With sequins everywhere a gal needs to know a few tricks to keep them looking good.
Loose sequin? Never pull the thread, you risk having the whole row becoming detached.
Need cleaning? Most dry cleaners don't do sequins. You'll need a specialist, your local guy is not the person you should hand off your sequins to. (Jeeves is a sequin specialist.)
Hang up your sequined garment as soon as you take it off. Watch out for snags.
Sequins should lie flat and be sewn tightly to the fabric. Sequins should move with the fabric otherwise the garment will look stiff.
Don't fear sequins, just remember that they require a tad more care than non-sequined garments.
Jeeves New York, 39 East 65th Street, between Park & Madison Avenue. 212-570-9130.
Related posts:

(https://www

NULL

.addtoany

NULL

.com/share)