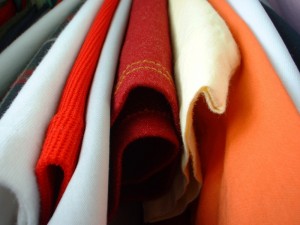 "Paper or plastic?" That used to be the question at the market, now the sign admonishes you to bring your own bag. Great idea.
In France, so I am told, you are scowled upon if you don't come to the market with your own.
Clean and freshly pressed clothes are covered in plastic for their journey from my shops to your home. The plastic is a barrier against the perils of stains and wrinkles during transport.
When asked, I always mention that clothes should never be stored in plastic. Fabric needs to breathe; plastic traps moisture and off-gases chemicals harmful to fabric.*
Naked. Your clothes look great naked. Plastic does nothing for the beauty of your wardrobe.
Buy how? Is it risky not to protect? Bring your own bag? The one from Whole Foods won't do.
A reusable garment bag of your very own, and it is made of cloth.
Drop your bag off with your clothes and we will use it for the journey home. Your clothes can breathe and the landfills will rejoice.
Cost? About $10, but consider the benefits. For most of your wardrobe it can work. For the fussy, special pieces plastic may still have to do. At least for now.
Questions? Drop me a line. Jerry@CameoCleaners.com (Jerry null@null CameoCleaners NULL.com)
Thanks for listening.
The reusable garment bags can be purchased at:
Cameo Cleaners of Gramercy Park, 284 Third Avenue, NYC 212-677-3949
Arthur Copeland Cleansers, 140 Grove Avenue, Cedarhurst, NY 516-295-2198
*Garment stored in plastic have a tendency to fade due to atmospheric gases being trapped in the plastic bag. You may notice garments in your closet that the color has lightened across the shoulder areas, this is called "fume" fading.
*Mold and mildew damage is problematic with garments stored in plastic. Trapped moisture can cause mold to grow. Only store your clothes naked or in cloth garment bags.
Related posts:

(https://www

NULL

.addtoany

NULL

.com/share)