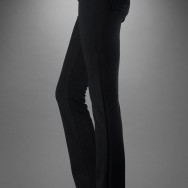 Every girl has a pair of super black jeans that fit to perfection. What do you do when the inevitable fading occurs after months of washing?
If the "faded to gray" look isn't working for you what are your options? The easiest is to buy a new pair, but what if you just can find the perfect pair again? Jean makers constantly change the styles and consequently the fit may suffer. Maybe the perfect fit is your faded black pair.
An option is to have your jeans re-dyed back to super black. We at Jeeves recently dyed two of our client's favorite True Religion black jeans back to super black. Gone was the gray and back was the black; the the fit, of course, was perfect.
She was so happy that she sent in a third pair a week later.
Figure on about one week to ten days to have your jeans properly dyed by Jeeves, but the wait will be worth it.
Jeeves has also dyed pink bridesmaids dresses black, dyed blouses to fix faded underarms and dyed trousers horribly stained with bleach.
Not everything can be dyed successfully, but Jeeves' client service representatives will be more than happy to discuss your options. Dying starts at $100 per garment.
Related posts:

(https://www

NULL

.addtoany

NULL

.com/share)