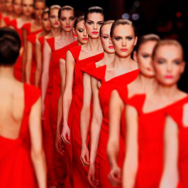 Late last week your man Jeeves was excited to start his morning with a visit from one of his favorite clients; a young lady whom he has known since she first arrived in New York. Always one to be perpetually late — a lifestyle Jeeves has never understood this visit was no different as she spoke a mile a minute rifling through her Green Garmento Bag rattling off the upcoming events on her calendar.
Once she finished the front counter of Jeeves resembled a sample sale with items ranging from fur to cashmere discarded haphazardly, but presented your man Jeeves with two pieces that she insisted require that " extra special Jeeves touch" ; both electric red. Jeeves was curious so inquired as to why she was favoring this particular shade for the season, and without skipping a beat she coolly replied "well why not?" After laughing to herself she went on to explain to me that red was one of the it colors this spring/summer– so I should be expecting a lot more crimson in the months to come.
A publicist known for her need to stand out, she emerged from the dressing room in a stunning red linen CK safari dress " perfect for all my events in the Hamptons this summer, no?" she quipped before Jeeves or his tailor had a moment to offer their opinions. Slightly challenged in the vertical realm this classic summer silhouette  required very specific alterations to maintain the original look– so of course Jeeves was the only one to be trusted.
The other article of clothing requiring "extra special attention" were a pair of  brand new red pants that had unfortunately met their match with a wad of gum in sunny florida. These pants needed to be cleaned in a timely manner as she had a premiere coming up that they MUST be worn to, and having a wad of gum residue visible on her hind parts was less than desirable. Jeeves reassured her that there was nothing to worry over as his ECO2 Cleanse system would have that out in no time and her pants would be brighter and redder than ever since the cold cleaning system helps to keep colors vibrant and fresh.
For all your spring and summer cleaning needs come visit your man Jeeves and his staff who will keep you and your wardrobe as bright as the sun we're hoping to see one of these days
Related posts:

(https://www

NULL

.addtoany

NULL

.com/share)