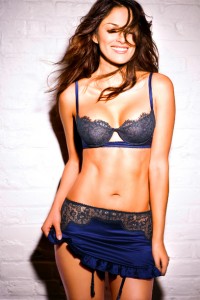 With  New York Fashion Week coming to a close your man Jeeves cannot wait to share with you all the fun he has had enjoying the stylings of such talented designers. As you probably know Jeeves has impeccable taste and quite the appreciation for fine fashion.
Jeeves started his tour de fashion on Wall Street at the beautiful Ciprianis Restaurant. Despite the very brutal weather that had turned Manhattan into  a snow globe , those in attendance did not seem to mind as they trusted designer Jenna Leigh's newest line would be sure to heat things up and make the room a little more toasty.
Little did Jeeves know , but he had signed himself up for a romantic evening of cocktails and lingerie…and without Mrs. Jeeves. She was not happy to find out about her man Jeeves being around a bunch of young girls only in their knickers.
As the girls hit the catwalk to the appropriately selected "Bad Romance" by Lady Gaga the sizzling styles spoke for themselves. Jeeves was very impressed that the designer's personality was so well conveyed by the models she selected to showcase her line.
Your man Jeeves also provided the guests with some samples of his exclusive all natural lingerie care, just in time for Valentine's Day. This item is to clean your under garments that may be too delicate to wash in a machine. You can purchase the lingerie care for yourself as part of Jeeves' Honeymoon Survival Kit.
Check back in for more of Jeeves Fashion Week adventures!
Related posts:

(https://www

NULL

.addtoany

NULL

.com/share)